VATERA BEACH HOTEL - VATERA
The Hotel....an ideal place for truly relaxing holidays....
Situated directly on the majestic 10 km long beach of Vatera, the Hotel VATERA BEACH is one of the most welcoming and relaxing holiday destinations on the island.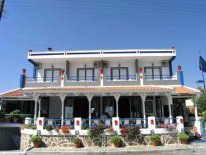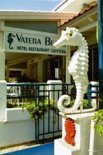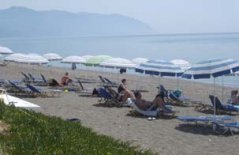 The hotel was built in 1990 to the personal specifications of the owners, Barbara and George Ballis. Somehow, they have managed to create an ideal holiday environment to suit all tastes and nationalities and proudly offer their guests a simplicity and ease in peaceful surroundings, yet with a service and thoughtfulness which remains of paramount importance despite their increasing popularity.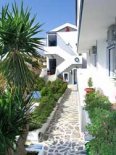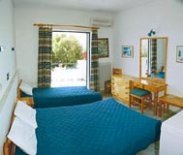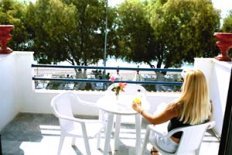 The hotel has 24 rooms set in three detached two-storey buildings linked by pretty and lovingly cared for gardens. Each room has air-conditioning & heating, a fridge with minibar, a private fully tiled bathroom with shower, an in-house music system, direct-dial telephone as well as a safe and hair dryer.
The decoration is simple but effective and the rooms are furnished with dressing tables, bedside cabinets and wardrobes. Certainly when this hotel was built, no corners were cut and each room also offers a large private balcony with Sea and Mountain view.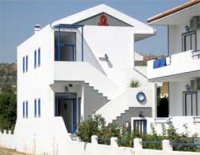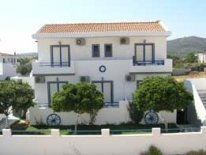 There are also two ' Family Rooms' These are large rooms each with a double bed, two single beds and still enough space for an extra baby cot without clutter. They also have larger wardrobe space and of course their own private bathrooms and balconies. Both rooms are situated in the quietest part of the hotel and are superb options for families with young children.
The hotel facilities include a pleasantly decorated restaurant with a large outer terrace to the front of the hotel for summer dining and a real fire crackling during the winter months with a comfortable lounge area. There is a large but unobtrusive central bar and a further terrace on the beach.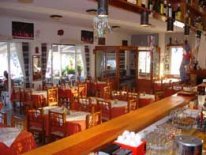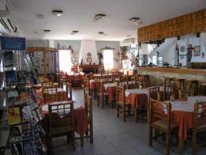 The hotel's restaurant serves breakfast and is open to non-guests for both lunch and dinner. This is possibly one of the best hotel restaurants we have come across on the island. The menu is not only changed regularly, but literally daily and offers a superb choice of traditional Greek and European dishes, all of which are freshly prepared and cooked in the well stocked hotel kitchen. The menu always carries a large variety of dishes to suit all tastes and vegetarians are very well catered for.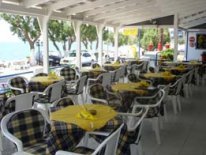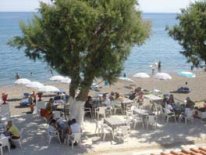 Guests who choose the half board option should not fear that they will miss out on the excellent options offered to other guests as the menu is specifically designed to give a large choice of ever changing dishes and unlike most half board options offered at other establishments does not bamboozle you into cheaper and less interesting menu varieties. The Half Board option available at an additional charge per person and is well worth considering.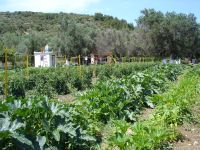 Almost all of the vegetables and fruit served in the restaurant are grown on the hotel's own organic farm, which also provides them with fresh eggs and often their own meat.


The kitchen prides itself that it only uses the very best ingredients to prepare the dishes on offer and especially it's own freshly produced extra virgin olive-oil.
The hotel also offers an officially approved foreign exchange service, reception area and as the official news agent stocks the latest copies of local and international newspapers, magazines and books.
The Internet Cafe in the central lounge is very popular with guests and visitors. Umbrellas and sun-beds are available for the beach and numerous water sport facilities can be found at the organized beach just 1 km away. Service personnel all speak both German and English.




Naturally, ALL visitors are welcome to use the Hotel Restaurant, bar and cafeteria as well as the foreign exchange facility, news agency and the Internet Cafe.
If you do decide to venture away from the Hotel  then coffee shops, bars and local tavernas are situated in the hamlet of Vatera within pleasant walking distance.
Description and photographs copyright © Sappho Travel 1999-2015