DIMITRA ROOMS - SKALA ERESSOS
Dimitra is named after the owner of these charming rooms set back from the main road into Skala Eressos and about 150m from the main square and beach.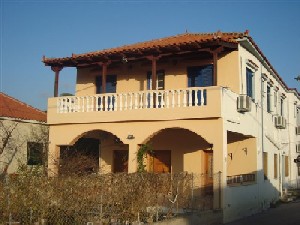 Dimitra has a generous nature and you will often find her smiling and chatting to you from her apartment garden which is on the ground floor. The room only accommodation is located on the first floor and offers a private bathroom for each room, with access to the large balcony which you can see at in the picture.
This is a well decorated and maintained, clean and simple type of accommodation and we have no hesitation in recommending it.
Description and photographs copyright © Sappho Travel 1999-2015